ProGuard® Pathogens and Odorous Gas Filters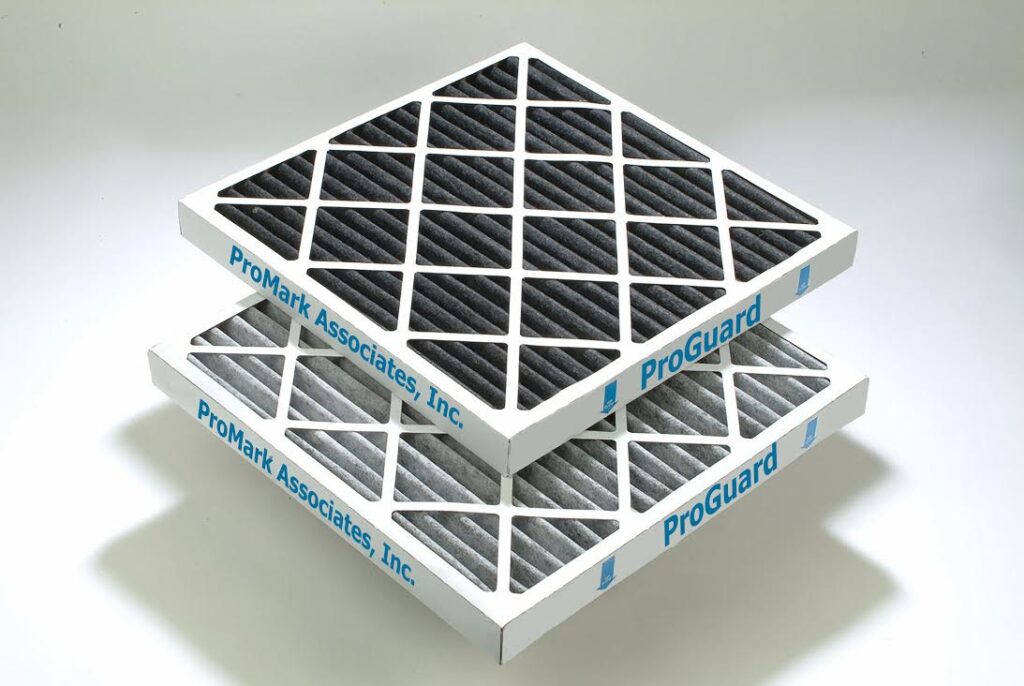 ProGuard PG300 Filters use a combination of chemicals and particulate filtration to replace existing particulate-only filters. With four times the gas-phase media of competitor's standard filters, and 100% ProGuard 300 high-capacity potassium permanganate on alumina, it has exceptional ability to destroy organic VOCs and pathogens.
The core of the filter is a unique suspension of ProGuard 300 high capacity potassium permanganate on alumina in a poly-fiber matrix. Using only PG300 in the ProGuard Filter makes it effective on a broad range of gases and meets ASHRAE 62.1 Indoor Air Quality Procedure.
Advantages
The ProGuard Filter does not use adhesives that could block pores or degrade media performance. All of the gas-phase media is available for use when installed. PG300 small size granules maximize the surface area available to react with contaminants and PG300 distribution throughout the filter maximizes contact. Our matrix design allows the highest loading of gas-phase media in the industry, without excessive pressure drop.
Direct replacement for existing particulate filters while adding gas-phase capabilities. Rated as a MERV 8 particulate filter, the same as 30% pleats.
PG Filter holds 2-to-4 times the chemical media as competitors.
High media loading means fewer changeouts needed.
Permanent odor removal through the use of PG300 gas-phase media—chemical contaminants are oxidized and won't desorb later.
Applications
ProGuard Filters are used to remove pathogens and odorous gases in schools, offices, factories, museums, airports, indoor stadiums, restaurants, or anywhere that standard filters are now being used. ProGuard Filters are also ideal solutions for commercial buildings where dirty outside air enters intakes and where the inside air contains pollutants from cleaning solutions, new carpeting, etc.
Standard Features
Poly-fiber matrix filter media
Available with paperboard, galvanized or aluminum frames
Sealed in plastic bag at the factory to ensure maximum capacity
Highest available removal efficiencies, MERV 8 particulate
Airflow: up to 500 fpm (2.54 m/sec)
Temperature rating: -4 °F to 125 °F (20 °C to 45 °C)
All filter sizes
How to Choose the best Gas-Phase media for you.
Activated carbon only is the goto media for general purpose air filtration for organics and musty smells and removal of ozone a byproduct of engine combustion gases that are in ventilation air.
50:50 blend of carbon and ProGuard® 300 adds the ability to remove acid gases such as exhaust fumes from vehicles and industrial air pollution. The PG 300 chemically reacts with these gases converting them to solids that are safe and stay in the granules.
100% PG 300 makes the filter a killer of pathogens of all kinds. Potassium permanganate is a strong oxidizer and disinfectant, that reacts with organic gases like formaldehyde a common indoor air pollutant. It also breaks down rotten egg smells and similar odorous gases to carbon dioxide and moisture. Choose this media if you have sick people at home or in the office. It will immediately improve indoor air quality.
PG 300 alumina with 8% KMnO4: 65 grams/ft2 (700 grams/m2)
PG 600 activated virgin carbon: 45 grams/ft2 (485 grams/m2)
PG Blend 36 50:50: 55 grams/ft2 (592 grams/m2)